Welcome to Take Me 2 Learn !
The most cost-effective way to share the world with your students.

First time visitor: Find out more! - Click "About Take Me 2 Learn" above.

Experienced Traveler: Log in above, or look at the "List of Destinations". We're adding new field trips constantly.

Ready to sign up?: Click "Register" above.
The Virtual Field Trip
Welcome to your virtual online field trip experience! On this
An educational tool developed by Vanimation Studios in partnership with A. Clayton Vandiver, M.Ed., a faculty member for the University of Phoenix, former professor for Jacksonville University, corporate media consultant, television writer, producer, director, videographer, editor, actor & voice talent.

About Us...
Take Me 2 Learn is a unique concept in online curriculum for modern classrooms.
> Newsletter Sign Up
Unsubscribe!
Sign Up!

Copyright 2010, 2011, 2012 Clayton Vandiver
all rights reserved

virtual journey you and your students will be able to travel to exciting and interesting places from the comfort and convenience of your classroom. Click on the sample window above or the top menu bar to start your sample trip to a TV station.

"According to this conception, the sole function of education was to open the way to thinking and knowing, and the school, as the outstanding organ for the people's education, must serve that end exclusively." - Albert Einstein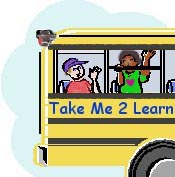 "Virtual Field Trips - Ready to Go!"
Reviews from our Traveler's Notebook: